Recently, Vivo, the world's renowned mobile terminal brand, held the Business Partner Conference on Quality and Improvement of 2020 under the title of "Win a Bright Future Together with High Quality." Hundreds of representatives of Vivo business partners from around the world attended the conference where Huaqin Technology won the Best Innovation Award 2020 for its brilliant performance in the project.
△ Vivo Best Innovation Award 2020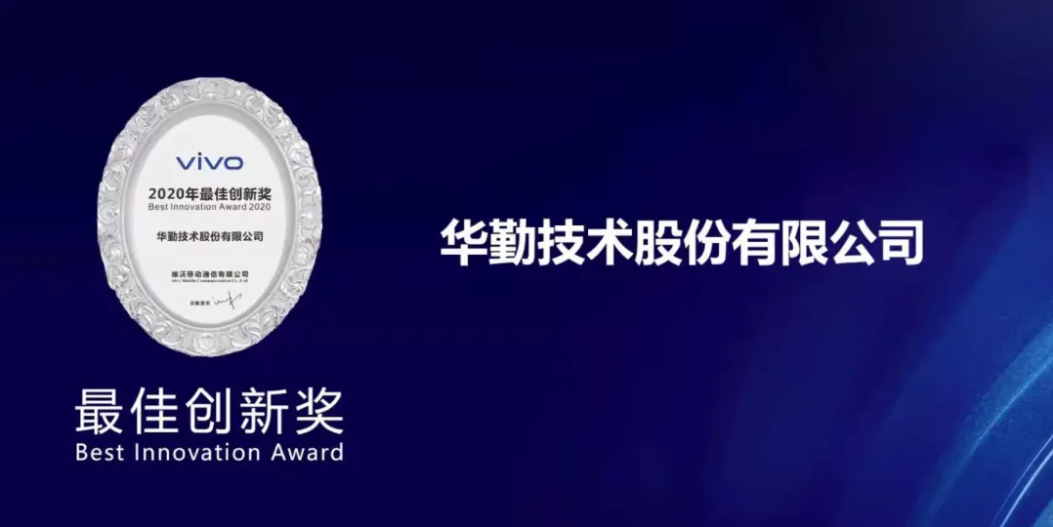 Evaluating candidates' innovation, the award rewards business partners that have made outstanding innovative contributions to Vivo.
In 2020, a year witnessing the pandemic of COVID-19 first and then the volatile international community, Huaqin began its first cooperation with Vivo in its new intelligence terminals. The products have achieved high quality performance and positive feedback from channels, strengthening the Vivo team's ambition for the products' market prospect.
Vivo and Huaqin, from mutual attraction to tacit cooperation
With the same pursuit and consensus
 Vivo and Huaqin, one "offering customers high-quality products and services" and the other "following an approach of high quality," coincidentally put "high quality" at the center of strategy, which is the consensus for their cooperation.
 Vivo "provides all its business partners with an equal, fair and mutually beneficial cooperation platform" while Huaqin "has become an excellent provider of intelligent products and services," which has contributed to their cooperation.
Huaqin Technology's technologies for all categories
New categories, new demands, new technologies, new projects… For the past 15 years, Huaqin Technology has extended "innovation" from mobile phones to all types of intelligent product hardware, which includes all the products typical to technological companies. In 2020, Huaqin positioned itself as an "enterprise of global intelligent hardware platform."
Huaqin is technologically competent for this new intelligent terminal project of Vivo, which has laid a solid technological foundation for the success of the project.
Capability for joint development
With R&D capability developed in the past 15 years, Huaqin is able to quickly apply advanced technologies to products. Meanwhile, its expertise in embedded software and integration of complex systems enables it to meet the complex needs of the new project.
Efficient operation and advanced manufacturing
Impacted by the pandemic and ever-changing international environment, there are challenges in the purchase of electronic parts and resumption to its production.
The risk control mechanism under the visualized global supply chain management of Huaqin, as well as its highly automated manufacturing bases, have taken up the challenges and delivered satisfactory results to Vivo.