On July 25, Microsoft FY2019 Partner Appreciation Dinner was held in Shenzhen. Microsoft's executives participated the meeting and shared future business opportunities and strategic objectives of the new fiscal year. Many ODMs including Huaqin and the industry chain partners of Windows attended the appreciation dinner.
As an important partner of Windows products, Huaqin was awarded "2019 Microsoft ODM Partner", which represents Microsoft's gratitude and recognition for its partners' support and cooperation in the development of Microsoft's business and for the linkage effect brought on the industrial chain.
Meanwhile, Microsoft also presented the grand prize "Million Units Device Shipment" in recognition of Huaqin's important contributions in the field of laptop. Huaqin is the only ODM in Chinese Mainland that serves many global top laptop brand clients at the same time, and has achieved rapid development in laptop area. Wining unanimous recognition among the industry, Huaqin well deserves these two prizes. Microsoft's executives thought highly of Huaqin's progress and rapid development and expressed their will for in-depth cooperation with Huaqin in many fields.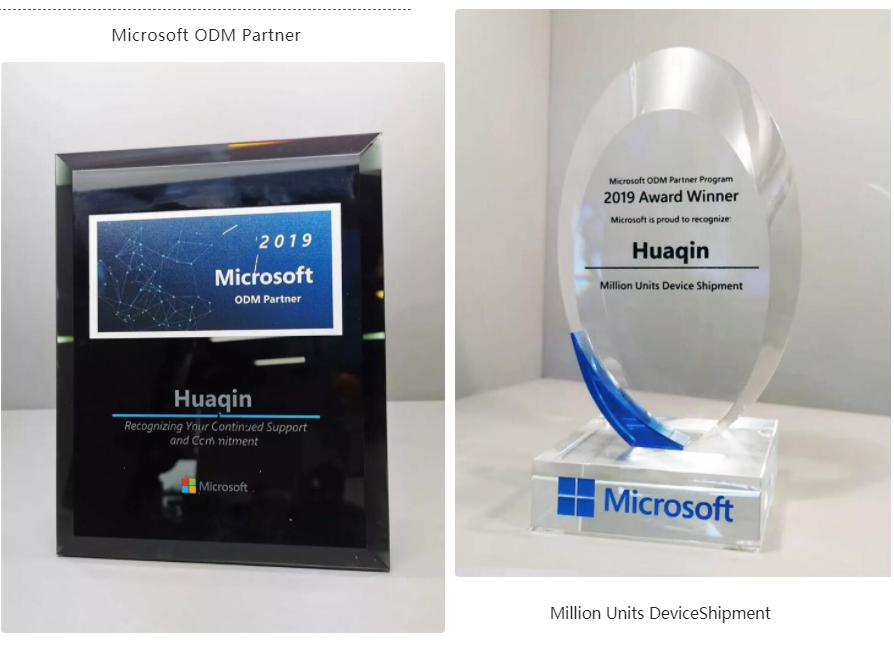 Since setting its foot in the PC market in 2015, Huaqin has quickly completed team building, product R&D, manufacturing and product delivery in merely a year, realizing global delivery of laptops and thus being recognized by many global brand clients in the industry. In 2017, Huaqin started to launch strategic cooperation with Intel Capital.
With a complete supply chain system and potent R&D competency, Huaqin is a brave seeker for breakthroughs and technological innovation. Its independent and innovative design will bring thinner and more portable innovative products to clients, generating more product competitiveness for clients.
Nanchang Manufacturing Center, Huaqin's manufacturing base that mainly produces laptops, was put into operation officially in June 2019. From then on, with two manufacturing bases in Dongguan and Nanchang, Huaqin has gained strong advantages in scale and owned leading automated manufacturing capabilities. With the strength to rapidly land product and launch scaled production in new fields and with new technologies, Huaqin will continue to provide partners and core clients with broader market space and product landing capability centering on the development trend of communications industry, fast launch product and conduct scaled production, so as to create value for its clients and boost clients' access to market opportunities.